'Eternals' trailer showcases new villain.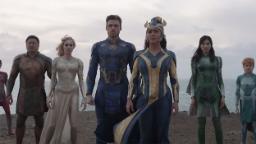 The current teaser follows the very first "Eternals" trailer launched in Might.
The movie includes Angelina Jolie, Gemma Chan, Kumail Nanjiani, Set Harington, Richard Madden, Lauren Ridloff, Brian Tyree Henry, Salma Hayek, Lia McHugh, Don Lee and Barry Keoghan in the story of a never-ceasing alien race fighting the Deviants.
Jolie plays elite warrior Thena.
The trailer likewise reveals the Celestials, which appeared in 2014's "Guardians of the Galaxy."
"Eternals" occurs after the occasions of "Avengers: Endgame." According to Marvel's site, "the wise and spiritual Ajak (played by Salma Hayek) explains the situation at hand to Ikaris (played by Richard Madden), 'Five years ago, Thanos erased half of the population of the universe. But the people of this planet brought everyone back with a snap of a finger.'
"Nevertheless, the occasions has actually triggered an unanticipated dispute for them, 'The unexpected return of the population supplied the required energy for the development to start.' Regrettably, they just have 7 days."
Have a look at the trailer here.
Jobber Wiki author Frank Long contributed to this report.