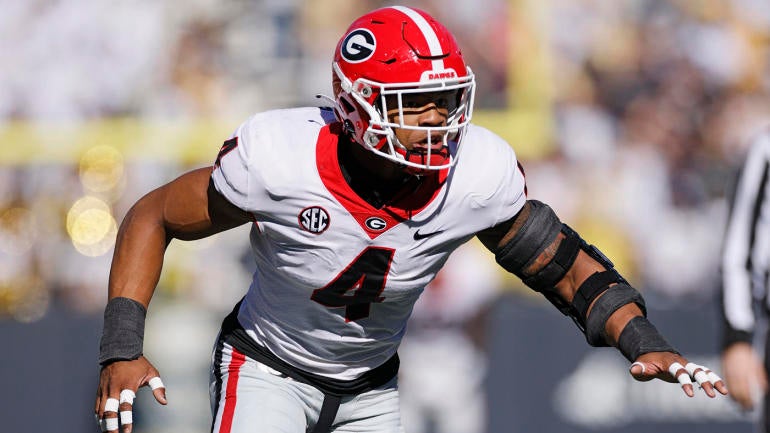 Getty Images
When the Philadelphia Eagles brought Nolan Smith in for a pre-draft visit, they saw plenty of similarities to Haason Reddick with the Georgia standout. Hard to ignore the comparison between the two. 
Smith and Reddick line up as edge-rushing linebackers who can play off-ball if needed. Reddick is listed at 6-1, 240 while Smith comes in at 6-2, 238. Both players are undersized and have similar frames, yet their speed is a tremendous asset in rushing the passer. 
Smith is expected to be a contributor in the Eagles' pass rush this season, playing as an understudy to Reddick. When the entire Eagles roster gets on the practice field for voluntary minicamp later this month, Smith will get to pick Reddick's brain on what has made him one of the top edge rushers in the league.
"I want to meet with him," Smith said Friday. "You can always learn. You're supposed to have a growth mindset. … If you think you know everything, then you're just ignorant. There's so many questions I want to ask."
Reddick was out of position as an off-ball linebacker in his first three years in the NFL, having just 7.5 sacks in that span. Since Reddick was moved to the edge on a full-time basis, he's recorded three double-digit sack seasons with three different teams in three seasons. Reddick's 39.5 sacks the last three seasons trail only Myles Garrett (44) and T.J. Watt (43) — while Reddick and Garrett are the only two players to have 10-plus sacks in each of the last three seasons. 
Smith didn't put up high sack numbers in college as he finished with just 12.5 in four years at Georgia — never amassing more than 4.5 in a season. Rushing the passer wasn't what Smith was asked to do in college, but that will change with the Eagles. 
Like a sponge, Smith wants to absorb all he can from Reddick before he plays his first game with the Eagles. Edge rushers typically don't make an immediate impact in the NFL, but Smith wants to change that. 
"It might be a question a day, write it down, write down the question, write down his answer," Smith said. "So I just can't wait."