Valkyrae, the Queen of YouTube, is well known for her incredible streams. But, as the #ValkyraeOnTimesSquare trended on Twitter, followers were stunned to find her on a massive billboard in Times Square, New York. Fans couldn't believe their eyes when Valkyrae was announced as the new face of Gymshark, the world's biggest gym clothing brand.
ADVERTISEMENT
Article continues below this ad
Gymshark's commercial at Time Square is actually a massive event to welcome Valkyrae as the brand's Global Ambassador. The most unexpected aspect was Valkyrae's abrupt arrival in front of her billboard, which shocked her New York fans.
ADVERTISEMENT
Article continues below this ad
YouTube Queen Valkyrae to be the new face for Gymshark
The Gym brand recently published a mysterious tweet of the same billboard in Times Square writing "come say hihihiihihiiihi Sept 10, 2022," following which fans went berserk over the announcement of Valkyrae being a partnership collaborator for Gymshark. Even so, no one realized it was not just any partnership, but a major announcement by both parties for the Global Ambassador of the company.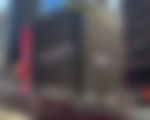 Notably, fans alongside Valkyrae couldn't contain their excitement about the announcement and turned it into a Twitter trend, which briefly went popular in the entertainment trends area. She can be seen wearing a turquoise blue crop tank top and light green spandex shorts, both by Gymshark, in images provided by the tweets.
Joe Apsey disclosed in a tweet that she has been planning this with the brand for more than 18 months and chose New York Fashion Week as the right time to announce her career advancement. Notably, Valkyrae was in New York with her teammates and friends, including prominent streamers and gamers like Fuslie and Hasan Piker.
Gymshark recreating 2021 Corpse Husband hype
Although fans are excited about the Valkyrae x Gymshark cooperation, the firm used a similar marketing tactic with the popular gamer and online musician Corpse Husband last year. The interesting aspect here is Gymshark's tweet, which alluded to the billboard in Times Square.
ADVERTISEMENT
Article continues below this ad
Although the event was not that noticeable to fans at that time, the recent Valkyrae stunt happen to get more attention. This can be said so because of how influential that marketing strategy came out to be for the company. Noticeably, fans had a great time seeing the Queen of YouTube and her friends in Time Square.
ADVERTISEMENT
Article continues below this ad
WATCH THIS STORY: Top female Fortnite streamers of 2022
However, coming back to the topic, tell us what you think of this new advancement by Valkyrae. Share your thoughts in the comments below.