DJ Spinderella disappointed over being 'wrongfully excluded' from Salt-N-Pepa's Lifetime biopic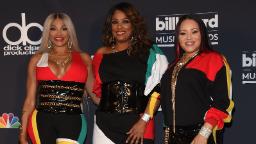 Deidra "DJ Spinderella" Roper, who belonged to the group from 1987 up until 2019, was fired by group members Cheryl James (Salt) and Sandra Denton (Pepa) and later on demanded breach of agreement. The trio later on reached a private settlement.
"Sorry, but I gotta speak on this Lifetime special," Roper tweeted Saturday. "Too often, Black women who have made meaningful contributions in their industry are left out of historical narratives."
She continued: "Back when Salt n' Pepa was building our legacy, which is rooted in empowering women, I could not have dreamed that this same group would one day disempower me."
Roper praised the stars who depicted the group, however included that she does "not support" the film."
"There's absolutely nothing more inappropriate than a female being silenced by another female," she tweeted.
She also revealed she'll be telling her own story in due time.
"The fantastic news is I remain in the lasts of composing my narrative, an individual journey browsing through life, relationships, and the market that raised me. 30+ years is a great deal of material and I'm all set to share," Roper composed.
Jobber Wiki author Frank Long contributed to this report.