BTS covers Coldplay and more on MTV Unplugged debut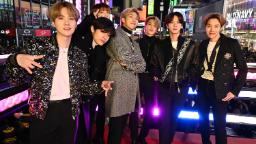 The worldwide K-pop feeling, which is consisted of Jin, Suga, J-Hope, RM, Jimin, V and Jungkook, carried out "Telepathy" for the very first time live, along with "Blue & Grey" throughout Tuesday night's broadcast. BTS, which represents Beyond The Scene, broadcast live from Seoul, South Korea.
The group's around the world acknowledgment grew in 2018 with the "Love Yourself: Answer" and "Love Yourself: Tear" albums. They have actually likewise scored many hits with other artists like Halsey, Ed Sheeran, Nicki Minaj and Fall Out Kid.
BTS likewise carried out a cover of Coldplay's 2005 hit single, "Fix You" last night.
The group just recently informed CNN that they felt they required to provide their audience brand-new music amidst the Covid-19 pandemic.
"If everything went according to plan, we'd be on tour right now, but the pandemic has changed everything," Suga stated. "So we thought about what we can do, and what we can do best at this point, in this situation. Everyone is going through such a difficult time, so we wanted to cheer them up."
Jobber Wiki author Frank Long contributed to this report.