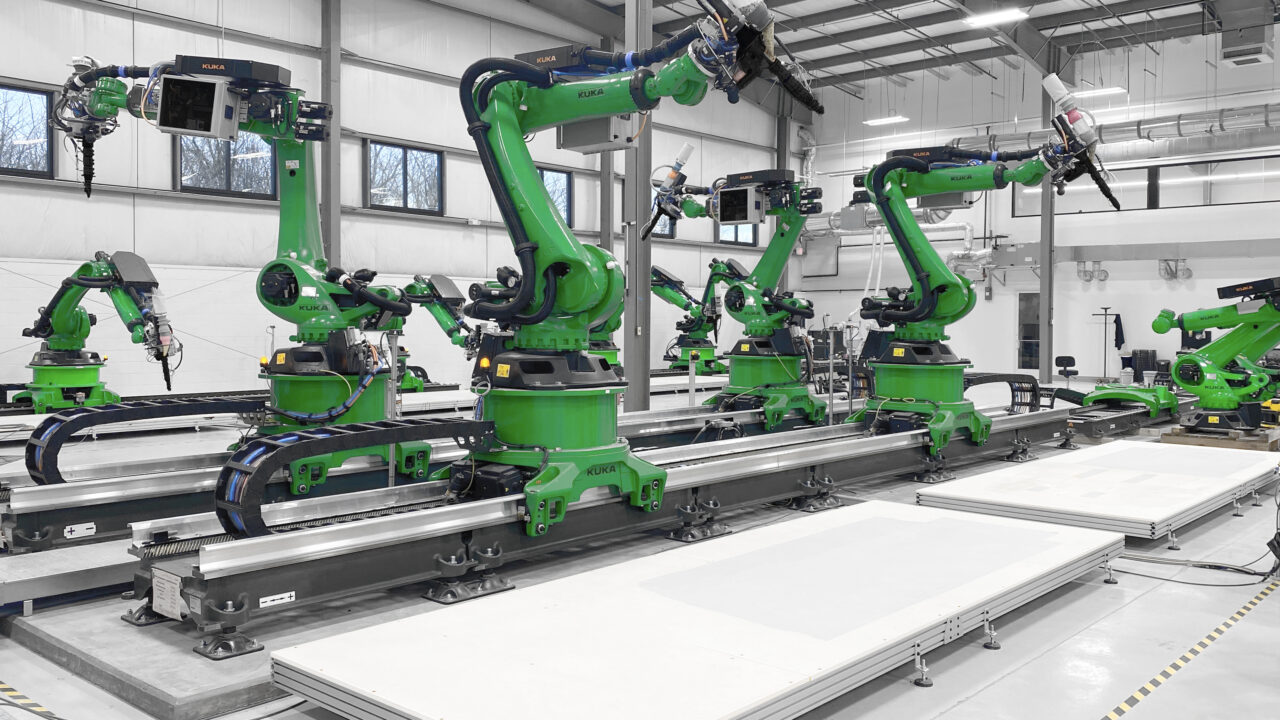 Platt Boyd has never been afraid of change. His creative inclinations inspired him to not only think outside-the-box throughout his career, but inspired him to wonder if the proverbial "box" did nothing but limit one's imagination.

The status quo left him unfulfilled. After building a successful architecture practice with an established firm in Montgomery, Al., Mr. Boyd began to envision a world in which right angles and conventional design were no longer the staple.
So, he hatched the idea for a company that challenged traditional construction methods and developed sustainable structures. It began when he built a simple model using a 3D printing pen, the foundation of what has become a company at the forefront of patented 3D-printed fabrication technology.

A decade later, his brainchild has evolved into Chattanooga-based Branch Technology, a developer of cellular fabrication technology in virtually any shape or form that has only scratched the surface of its potential applications.

But once again, Mr. Boyd has come to the realization that change is needed. After moving to Chattanooga in 2014, starting operations at the Hamilton County Business Development Center with four employees before transitioning Branch's current location on Amnicola Highway, he is relinquishing his role as chief executive officer.
"I've always wanted to work myself out of a job, to get to the point with the company where I am no longer appropriate to be the person leading the company," Mr. Boyd said. "I wanted to see us grow to the point where it was beyond what an architect should do. I've always thought that one day I would not be the right person."
As Branch continued to grow and gain notoriety, Mr. Boyd found himself spending more time focused on tasks such as marketing and fund raising.
"The requirements of the position no longer align with my skillset," Mr. Boyd said. "I found myself working within my giftedness and passion maybe 20 percent of the time."
Ryan Lusk will assume the role of Branch's new CEO on Monday. Mr. Lusk has spent 11 years at Jackson Furniture Industries in Cleveland where he served as the family-owned company's chief financial officer. Previously Mr. Lusk worked with two firms in New York in the private equity and start-up space.
"Ryan has fresh energy and new ideas and I can't wait to see how he leads," Mr. Boyd said. "He's in my Sunday school class and I've known him for seven years. But didn't know his business background until this opportunity presented itself, and he's the perfect fit for this role. He's been amazingly successful. It gives me renewed energy."
Mr. Lusk, 47, received his undergraduate degree at Auburn University where he was an SEC All-Academic football player and he earned his MBA from Duke University. He is eager to assume his new role at Branch to guide the company into its next phase of growth.
"Getting to know Platt has been amazing," Mr. Lusk said. "'His infectious enthusiasm for bringing about his vision of a beautifully built world is certainly attractive for what I want to invest in for the next chapter of my career. There is a massive business opportunity there in a variety of markets and the technology Platt has developed can disrupt a lot of industries and do some great things."

Mr. Boyd will remain with the company, serving on the board of directors and assuming a new role of chief innovation architect.
"I am extremely excited to get back into my zones of giftedness," Mr. Boyd said. "This will be concentrated on product development, research and development, design, project solutions, intellectual property, and our institutional and government funded collaborations that help push all these areas forward. Generally being a chief product and problem-solving officer to help our teams move forward in a cohesive and efficient manner."
After spending several weeks onboarding Mr. Lusk in his role, Mr. Boyd will take a sabbatical for an extended period.
"I need time away. I am completely exhausted," Mr. Boyd said. "I need to think through the next phase of my purpose. I will use the sabbatical to recharge and spend time with my family and do some travelling."
Mr. Lusk has grown in his admiration for the manner in which Mr. Boyd has made the transition in leadership seamless.
"Platt is adamant about me not living in his shadow, avoiding what he calls 'the founder's wake'," Mr. Lusk said. "How he's handled that and communicated it to the team, the public and investors, I cannot imagine a better transition. Having him stay on as an incredibly valuable resource with his technical knowledge in the industries we are competing in is essential."
The culture Mr. Boyd has created at Branch made Mr. Lusk's decision easier as he met the other members of the company.
"I've become very attracted to the Branch team, and I've noticed they all speak very highly of each other," Mr. Lusk said. "A lot of that goes back to Platt's values that he set for the organization, and the company shares his belief of 'other's centeredness'. The company that he's poured his heart and soul into is really catching momentum now and will triple its revenue this year. He has the humility and ability to put the mission above himself to hand it off at this inflection point. He's living out those values in a tangible way."
As Mr. Boyd migrates into his new role at Branch, it has brought about some expected emotions to relinquish the reins of the company he founded.
"When you hand your baby to somebody, it's a big deal," Mr. Boyd said. "You have to trust. You know there's going to be differences, but that's not bad. Different, in this case, will be very good.
* * *
Email Paul Payne at paulpayne6249@gmail.com