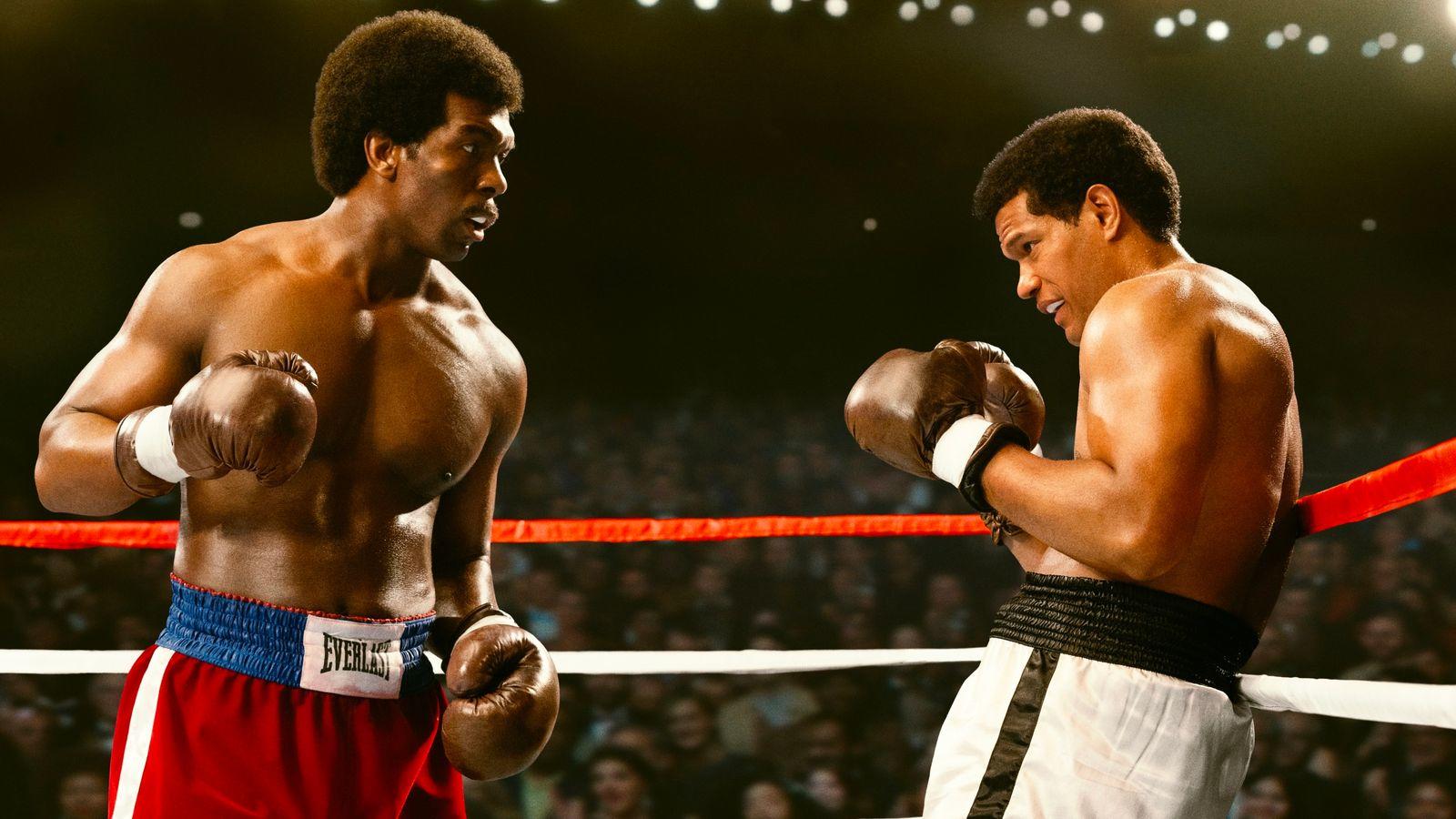 Sports have dominated the big screen early in 2023. First came Tom Brady's road-trip comedy "80 for Brady." Then "Creed III." Then "Air," the story of how Nike landed Michael Jordan. Now, yet another addition to the genre is heading to theaters in "Big George Foreman," out Friday and chronicling the life of the unlikely heavyweight boxing champion.
Sure enough, actual sports also fueled the film's production. A year after Mark Wahlberg underwent a physical transformation to play a boxer-turned-priest in "Father Stu," former football player Khris Davis worked alongside a New Orleans Saints nutritionist to accurately portray Foreman. Previously seen in "Space Jam: A New Legacy" and "Judas and the Black Messiah," Davis headlines a cast that includes Academy Award-winner Forest Whitaker.
"Big George Foreman" is co-produced by Mandalay Pictures, one of the companies behind "Air." Its star, Davis, joined CBS Sports this week to preview the film, discuss his sports background, and his future on screen:
The following interview has been edited for length and clarity.
You're from Camden, New Jersey, so you know the Philly area well. How much did growing up around such a passionate sports scene influence your ability to step into sports roles, on stage and on screen?
Davis: Well I grew up playing sports, and I think having that athletic background actually is what helps perform on stage, because you have such agency over your body as an athlete. I started playing sports from the time I was 8 years old all the way on up. My dad, on Saturdays, we wouldn't wake up and watch cartoons and eat cereal. My dad would wake us up, and we would go jogging. And then we'd go to an open field, and we would run drills, we would do bear crawls up hills. … So those were my Saturdays as a kid. So I grew up playing sports. In a sense, it's only natural and fitting that that part of my life, I'm able to share that through the work that I do. But I really think that being a former athlete is what really helps hold me no matter what I'm doing on stage.
What was your go-to sport and position while playing?
Davis: My primary sport was football, and my positions were defensive end and tight end; I played both sides of the ball. But when it came to collegiate sports, I always (just) wanted to be an actor. So when the phone calls came — a couple of offers came — I turned them all down because I wanted to act. I would ask them, 'Hey, what's your theater program like?' And it would go right over their head and no one could answer this question. I actually ended up going to Cheyney (University) because I had turned down all those schools. They had a theater program. They asked me to play a couple of times. And I kept telling them no.
Your director, George Tillman Jr., told USA Today that you used a trainer from the New Orleans Saints as part of your physical prep to play George Foreman. Can you explain what that partnership looked like?

Davis: My trainer was actually Darrell Foster, who was my fight coach. He trained Will Smith for 'Ali.' Darrell Foster never left my side. We would do five to six hours a day in the gym doing fight training. He and I were the only ones in the gym at 3 o'clock in the morning, 4 o'clock in the morning sometimes. The guy from the Saints was the nutritionist. Darrell and I had spent months and months together formulating these fights, understanding what my body needed to be — either up or down the scale to be body-specific to where Mr. Foreman was at (during different points of his life) — the Olympics, the heavyweight championship. The nutritionist came in when I (finally) needed to gain the weight. That's when it got real.
When you were putting on weight for the role, did you have a go-to snack? Or was it just work?
Davis: No, it's just work. It's just work. I'm a fan of body building and, and one thing that I know about these people is that when they talk about eating, they say, 'You're not eating because you like it, you're eating for results.' You're not eating because it tastes good. You're eating for results. I didn't have a go-to snack. I did it all on a pescatarian diet. I didn't do any dairy. I didn't do any sugar. So I did it all clean.
Did I like it? No. 'Cause I didn't have a lot of sodium in my food. Did it taste good? No. But I was damned if I wasn't gonna get those results, you know? And I did it in five weeks: 7,000 calories a day on a pescatarian diet. That's a lot of food. You know, I'm eating from like 6 a.m. to 9 p.m. and I'm still going into the gym to do boxing training. Going from 225 to 275 in five weeks — the heaviest I got was 282 — that's bananas. There's no easy way to do it. … I told my coach, I said, 'Coach, we need to take photos, 'cause nobody's gonna believe it.
You appeared in the new "Space Jam" alongside LeBron James. In "Judas and the Black Messiah," you worked alongside Oscar winners like Daniel Kaluuya. So you've been around greats of both acting and sports. Did you pull anything from them while kind of combining the acting and the athletics in this movie?

Davis: Not necessarily, because what was was more important is that I showed up myself. If I'm in my head about the fact that I'm sitting across from LeBron James, I'm not focused on the job. And he has me there because he knows that I can do the job and I can focus on my job. Now did I get an autograph? I did, but I was finished with my job (laughs). I was finished my job. Working with Daniel, you know, all I wanted to do in that moment — we're talking about Fred Hampton's story. That's the most important thing. The most important thing is the story. That's why we're all here.
Speaking of stories, you've been part of some historic ones, portraying a character based on Jack Johnson, the first African-American heavyweight champ, on stage, and now George Foreman on screen. There's also an element of faith of Foreman's story, as he became a minister. Do you believe you were destined for this role?
Davis: It's funny, I was reading the other day about jobs that actors regretted turning down and jobs that actors were happy they took. And all of these roles from iconic movies, I couldn't have imagined anyone else in the roles. I was reading that and thinking to myself, they were always destined to play these roles. Those people were meant to tell those stories. So for me, I like to believe that whatever role that I'm doing is specifically … meant for me to do.
There's so many variables in this business that could prevent me from doing this or that that are outta my control. But to have the privilege and the opportunity to be able to tell these kind of stories, perhaps it is a part of my legacy, my story and a design for me. My connection to Mr. Foreman's religious experience from my own — I didn't even know he had that, I didn't even know that was a part of his life. (Growing up doing church skits) helped me kind of guide those moments and be able to really identify with what he might have been experiencing.
Sports movies are succeeding at the box office this year. What makes 'Big George Foreman' unique?
Davis: What makes this one unique is that we're talking about an athletic pop-culture figure that somehow has, for many decades, been this looming figure that we all love, but don't understand. Everybody in some capacity has been curious about Mr. George Foreman. You watch him lose to Ali, you watch him knock out Joe Frazier and you wonder who that guy is. You see this guy selling these grills. And you wanna know who that guy is. "Creed," "Air," these other films, they have their own legacy. But Mr. Foreman, he was there before MJ, during MJ and long after his retirement. I'm excited for people to really get an inside view on Mr. Foreman's life and his experience. I think we all wanna know what happened after he got knocked out. He kept fighting.
You're a Philly sports fan. So who's your favorite current Eagles player, and is there any chance you'd play Jalen Hurts in a biopic down the road?
Davis: (Laughs) Not happening. No, no, no. I'd be way too old to do that at that point. But my favorite Eagles player now, I'm gonna have to say it's our center, man. Dude is awesome. I love the fact that he loves his family so much and he loves his brother so much and I love that he has a good energy and I love that he's such a central part of the team. Of course I love Jalen Hurts. I love the fact that he's such a leader. And I love the fact that this team as a whole is probably one of the most complete and talented teams we've had. So I'm looking forward to seeing what else happens with this team.