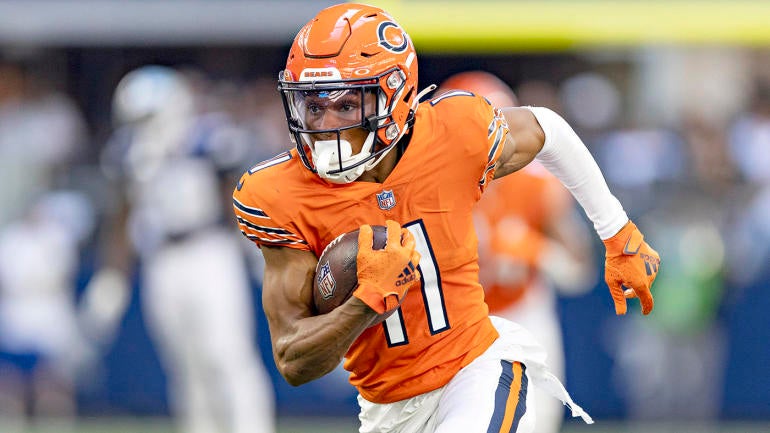 Getty Images
The Chicago Bears' 2022 campaign elicited mixed feelings from the fan base. On one hand, the Bears' 3-14 record was the worst in the league, but on the other, Justin Fields took over the NFL with his legs, and showed he has legitimate franchise quarterback potential.
Chicago was aggressive this offseason in bolstering both sides of the ball. General manager Ryan Poles put this team in great position to fast track a rebuild, and even sold the No. 1 overall pick for a solid return, which included former Carolina Panthers star wideout D.J. Moore. 
Adding to the wide receiving corps was something Chicago needed to do. For the last two years, this group has been headlined by Darnell Mooney, who suffered a season-ending ankle injury in Week 12 last season. While he will have more help in 2023, Mooney's mindset has completely changed. In an interview through The 33rd Team, Mooney said he's taking no prisoners moving forward. 
"Do whatever I can do for my team," Mooney said when asked about his expectations in 2023, per NFL.com. "I mean, ball out, of course. Dominate. Not really on the 'respect my name' anymore. I'm just going out for disrespect. I'm just disrespecting everybody now. Don't really care about respect no more. Other than that, I just want to win. Don't really care about anything else, for real."
Mooney caught 40 passes for 493 yards and two touchdowns before suffering his ankle injury in 2022, but still was Fields' leading wideout at the end of the year. The fifth-round pick out of Tulane in 2020 had a breakout season in 2021, recording 81 receptions for 1,055 yards and four touchdowns. 
While Chicago's wide receiving corps has been boosted by the additions of Moore, Chase Claypool and Tyler Scott, Mooney is the wideout Fields has the most chemistry with. Plus, as Mooney said, he's not out for individual respect or career-high numbers in 2023. He's out to win.