Finals series will also be tweaked, going from five teams qualifying to four, with a yet-to-be-determined four-match system
AAP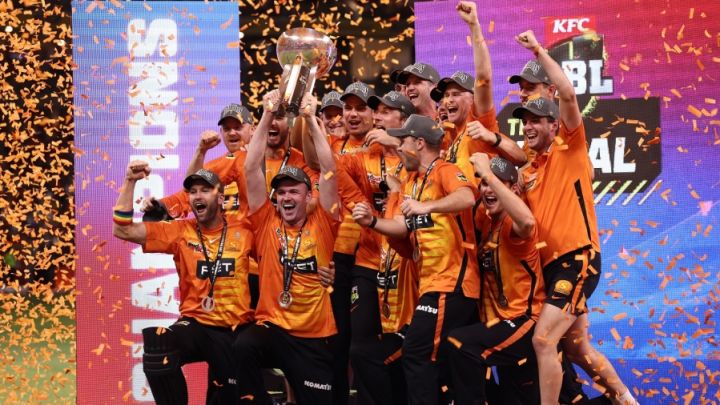 The Big Bash League will be shortened to ten games per side this summer after Cricket Australia struck a deal with broadcasters to cut back the competition. Already due to be 16 games shorter in 2024-25, officials have confirmed that the move from 56 regular-season games to 40 will be brought forward to this summer.
The finals series will also be tweaked, going from five teams qualifying to four, with a yet-to-be-determined four-match finals system.
Often criticised for being too long, the reduction in men's matches takes the competition back to 2017-18, when it was in its prime.
While dates are yet to be set for this summer, the reduced competition should allow the season to be played entirely within the Christmas school holidays. It will also ensure marquee overseas players are available for a higher percentage of matches, along with giving a greater chance for Australia's white-ball stars to play all games.
CA had first indicated its desire to shorten the competition during last summer's broadcast negotiations, with changes mooted for 2024-25.
Both Foxtel and Seven had been open to bringing the change in sooner, but a number of deals had to be struck with club sponsors, and to alter venue arrangements. However, the general feel across most stakeholders was a shorter season would lead to a better competition with increased ratings and exposure for each match.
"A shortened BBL will allow us greater flexibility to ensure we can deliver the best possible fixture for clubs and fans," BBL general manager Alistair Dobson said. "[We can do that] while providing a platform that allows players to continue to produce the world-class levels of cricket we've seen over the duration of the tournament."
No changes, however, will be made to the WBBL for now. While a shorter tournament remains a possibility in the future to continue to attract overseas talent, domestic players prefer a 14-game regular season, given it is the pinnacle of their summer.
CA is banking on the notion of drastically increasing the pay for the best overseas talent to $110,000 for the season to try and entice them to the competition.
"It's vital that we make sure the tournament continues to be at the forefront of T20 Leagues, as the global women's game continues to evolve at a rapid rate," Dobson said. "As a league, we're always reviewing and looking at ways we can evolve, adapt and innovate, and as part of that we'll continue to consider the structure of the WBBL season."
The BBL will also open the door for clubs to begin re-signing off-contract players from next week, before advances from rivals are made from May 22.
Officials have also confirmed clubs will be able to begin trading draft order picks for the first time as part of player-trade deals.