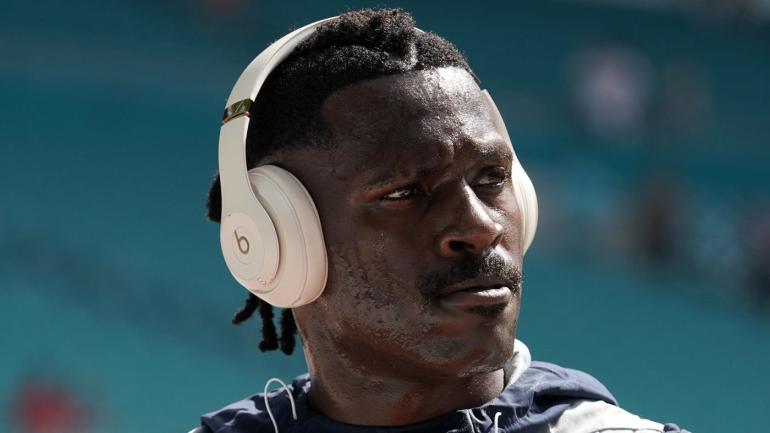 USA Today
It's been nearly 18 months since Antonio Brown last played in a professional football game and despite all that time off, it seems that he's now planning on making a return to the field in the next few weeks. 
The former NFL receiver owns the Albany Empire of the National Arena League and he's apparently planning to suit up for at least one game this year. Brown told WNYT in New York that he'll either be playing on May 27 or June 17. Of course, he also claimed he was going to sign with the Ravens and that never happened, so it's impossible to know how this will play out. 
Controversy seems to follow Brown wherever he goes and his ownership of the arena league team has been no different. Brown bought the Albany Empire in March and his tenure as owner has been nothing short of a disaster. According to multiple reports, players and staff weren't being paid as recently as late April and the team's former head coach (Damon Ware) ended up leaving the Empire over the missed payments. 
The team claims that the missed payments were due to a change in payroll processors that happened after Brown purchased the franchise. In an interview on May 3, Brown said that everyone had been paid what they're owed.  
Speaking of money, it appears that Brown's decision to return to the field is financially motivated. According to WNYT, Brown is hoping to sell upwards of 10,000 tickets for the game he plays in, which would be well above the team's average attendance of 2,500. Apparently, Brown is also hoping that Cam Newton will join him in "some capacity" with the Empire, although he didn't mention if that would be as a player or possible part owner. 
Brown's team is currently 1-3 on the season, which puts them in a tie for last place in the seven-team NAL. If the seven-time Pro Bowler does end up playing on May 27, that game will kickoff against the Fayetteville Mustangs at 7 p.m. ET in Albany. If he waits until June 17, that game will come against the Jacksonville Sharks and will also kickoff at 7 p.m ET in Albany. 
NAL commissioner Chris Siegfried told TMZ that the league has no rules against an owner playing for the team he owns. Brown hasn't played in the NFL since storming off the field shirtless at MetLife Stadium during the Buccaneers' 28-24 win over the Jets in Week 17 of the 2021 season.