Amanda Kloots marks anniversary of taking Nick Cordero to hospital for Covid-19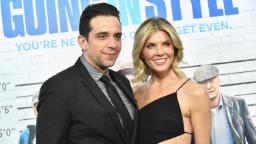 What followed were months of him being hospitalized, seriously ill with the infection, and even needing to have his leg cut off.
Now a co-host on "The Talk," Kloots showed Tuesday on dropping her partner off at the emergency clinic.
"I don't even know if he said bye to Elvis or if we said, 'love you,'" she composed. "I told him I'd stay nearby and to call me when he's done. We walked to The Grove to kill time. We thought it would be a couple hours."
"That was the last day I saw Nick as Nick," she included.
Kloots stated on April 1 her partner was placed on a ventilator and she was never ever able to speak with him once again.
"To anyone, who like me, that dropped their person off at the hospital never to really 'see' them again, I'm thinking and praying for you today," she composed. "This day is just hard, there's no other way to say it."
Jobber Wiki author Frank Long contributed to this report.