Largest pilots union "encourages patience" as delays mount
The largest pilots union in North America encouraged travelers Wednesday to be patient after the nationwide ground halt on flights, even as data from tracking site FlightAware.com showed ongoing delays.
"We are in regular contact with the Federal Aviation Administration and will continue to work with them and airline managements to ensure our aviation system continues to be as safe as possible," the Air Line Pilots Association said in a statement.
The group represents 67,000 pilots at 40 U.S. and Canadian airlines.
FlightAware showed delays of as much as 48% of flights for Southwest Airlines, 44% for American Airlines and 38% for United and Delta airlines.
Meanwhile, a spokesman for American Airlines' pilots union said he respected the decision to issue the nationwide stop, as it was likely necessary to ensure safe travel.
Still, "this shouldn't be happening," said Dennis Tajer, spokesman for the Allied Pilots Association. "This is a learning moment — but we have to get those moments down to a minimum."
This traveler is rushing home to perform plastic surgery
Performing plastic surgery was on the line if Robert Feczko didn't make it home to North Carolina. 
His ski trip to Colorado ended with his Delta fight from Denver International Airport to Atlanta being delayed two hours. Complicating matters, the 37-year-old plastic surgeon would likely miss his connecting flight to Raleigh, North Carolina and push back the final stretch of his trip — a 90-minute drive home to Greenville, North Carolina.
Feczko said he wanted to feel fresh to perform surgery Thursday morning but before leaving Colorado, he wasn't sure whether he'd even make it home.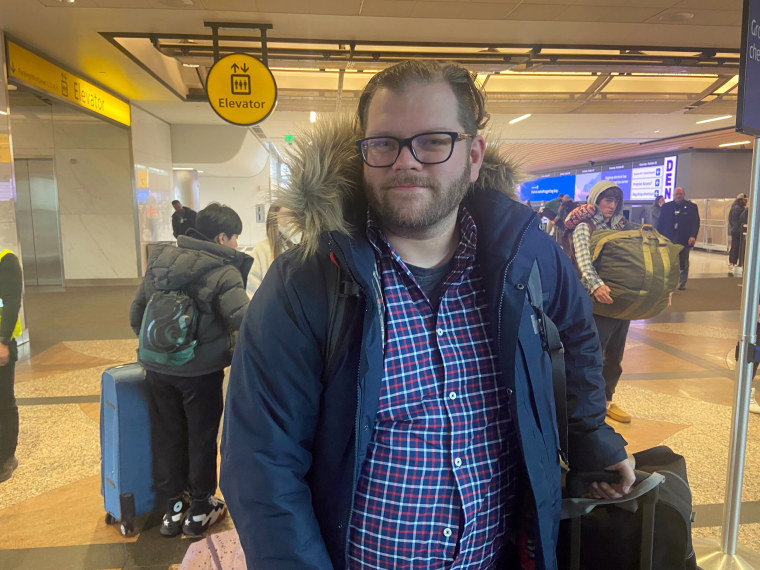 "I'm more concerned about my flight routing through Atlanta," Feczko said, waiting in line to check his ski equipment. "I'm worried about tomorrow. I have a surgery at 7:30 a.m."
Canada's air navigation service provider experiencing NOTAM outage
Canada's air navigation service provider, Nav Canada, was experiencing the same computer system outage as the FAA did, it said in a tweet shortly after 12:30 p.m. ET.
"NAV CANADA's Canadian NOTAM entry system is currently experiencing an outage affecting newly issued NOTAMs, and we are working to restore function," the statement read. "We are not currently experiencing any delays related to this outage. We are assessing impacts to our operations and will provide updates as soon as they are available."
A spokesperson for Nav Canada did not immediately respond to questions.
As of about 1:45 p.m. ET, Toronto Pearson International Airport was the only Canadian airport experiencing delays, with average departure delays of 27 minutes (and decreasing), according to FlightAware.
Earlier Wednesday, Air Canada tweeted that all customers traveling to and from the U.S. should check the status of their flights on its website following the FAA outage.
A quarter of Air Canada flights — 114 — were delayed as of 1:45 p.m. ET, FlightAware showed, while 13 were canceled.
A delayed flight leaves one traveler in tears — and out of $500
At Denver International Airport, the computer outage delayed Mine Mizrak's Southwest flight to Los Angeles and forced her to miss her connecting Turkish Airlines flight to her native Istanbul, where she planned on reuniting with family.
Mizrak, a mechanical engineer, moved to Denver last year, leaving behind her mother and other relatives, whom she hasn't seen since.
"I've been looking forward to this for the past month," she said, sitting down in a chair counting the time until her next flight departs. But once she does, her trip will become pricier.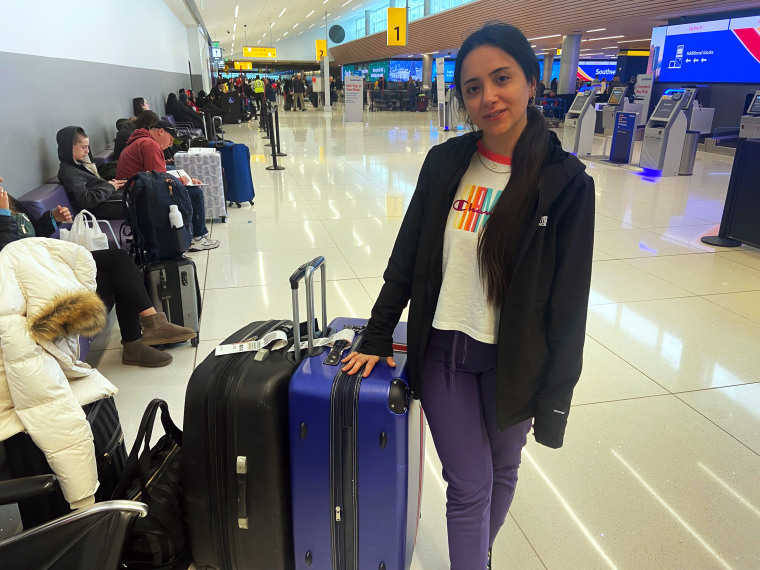 While the 25-year-old Turkish woman said she paid $1,000 in airline fare, she'll have to pay an additional $500 once she lands in California to ensure she gets home because of her missed flight at LAX.
"I've been crying because I could've spent that money on something else in Istanbul," Mizrak said. She said Turkish Airlines won't reimburse her for the money because the outages didn't affect international flights.
A Turkish Airlines spokesperson did not immediately respond to an inquiry.
Buttigieg says no 'nefarious' cause found so far
American Airlines, Delta resume operations with ongoing delays
American Airlines and Delta Air Lines resumed operations late Wednesday morning following the FAA outage, though with significant delays.
As of 10:45 a.m. ET, more than 950 American Airlines mainline and regional flights had departed, according to information provided by the airline. 
As of 12:30 p.m. ET, just under 1,200 American Airlines flights were delayed, amounting to 40% of its flights, and more than 180 were canceled, amounting to 6% of its flights, FlightAware reported.
In a statement, American Airlines said it was continuing to "closely monitor" the FAA outage and was "working to minimize further disruption to our customers and operation." Customers whose flights were impacted by the outage could rebook their travel for Wednesday and Thursday "without any additional fees," the airline said, directing travelers to its website or app for the latest flight information.
Delta was slightly less impacted than American, with just over 1,000 flights, or 35%, delayed, and 58, or 2%, canceled as of 12:30 p.m. ET, according to FlightAware.
Nearly half of Southwest flights delayed just weeks after mass cancellations
Nearly half of Southwest Airlines flights were delayed as of about 11:15 a.m. ET, according to FlightAware, making the already beleaguered carrier one of the most affected by the morning's outage.
More than 1,700 Southwest flights were delayed, amounting to 45% of its overall flights.
The latest delays come just weeks after the airline canceled thousands of flights in the travel-heavy days after Christmas, which it blamed on "operational challenges" following days of severe winter weather.
In a statement provided to NBC News, Southwest Airlines spokesperson Dan Landson said the airline anticipates "some schedule adjustments will be made throughout the day."
"As always, we encourage Southwest Customers to check their flight status at Southwest.com or via our mobile app," Landson continued. "We've also posted a Travel Advisory on our website to highlight the flexible rebooking options being offered to Customers."
Chart: See the spread of flight delays Wednesday
Ground stops lifted at Chicago airports, though delays continue
Ground stops have been lifted at Chicago's O'Hare and Midway international airports, the Chicago Department of Aviation said in a statement shortly after 10 a.m.
"Residual delays or cancellations will likely continue throughout the day as a result of this morning's outage," it said, adding that travelers should continue to check their flight status before heading to the airports.
As of about 10:45 a.m. ET, O'Hare was reporting average arrival delays of an hour and 16 minutes (and decreasing), and average departure delays of an hour and 39 minutes (and increasing), according to FlightAware. More than 200 of its flights — 23% — were delayed, and 39 flights were canceled.
Midway was experiencing average arrival delays of 48 minutes (and decreasing) and departure delays of an hour and 51 minutes (and decreasing), according to the tracking website. More than 40% of its flights — 116 — were delayed, and 22 were canceled.
FAA outage was a 'catastrophic system failure,' U.S. Travel Association CEO says
Wednesday's FAA computer outage was a "catastrophic system failure" and "a clear sign that America's transportation network desperately needs significant upgrades," according to the head of the U.S. Travel Association.
"Americans deserve an end-to-end travel experience that is seamless and secure. And our nation's economy depends on a best-in-class air travel system," said Geoff Freeman, the president and CEO of the nonprofit and advocacy group representing more than 1,100 member organizations in the travel industry.
"We call on federal policymakers to modernize our vital air travel infrastructure to ensure our systems are able to meet demand safely and efficiently," he added in a statement.
Senior law enforcement official: No evidence of cyberattack
A senior law enforcement official told NBC News that the FBI has seen no evidence that a cyberattack caused the computer outage that grounded thousands of flights.
Cyber security experts say the most common cause of problems like the one Wednesday is a bad software update.
What is NOTAM, the system that had an outage causing a nationwide flight fiasco
Most people will never have heard of "NOTAM," but it is the reason thousands of travelers were stuck in airports or stewing over delayed or canceled flights Wednesday.
The acronym stands for "Notice to Air Missions," and refers to the computer system that distributes "information essential to personnel concerned with flight operations but not known far enough in advance to be publicized by other means," according to a webpage on the Federal Aviation Administration website. (The page was no longer accessible shortly after 9:30 a.m. ET.)
The notices flag abnormalities such as "runways being closed for maintenance, ground stations being out, construction cranes that may be in the proximity of a runway," NBC aviation analyst Capt. John Cox said on MSNBC's "Morning Joe."
The notices are written in a specific format with "a unique language characterized by the use of specialized contractions" standardized by the International Civil Aviation Organization, according to the FAA. To the untrained eye, the notices look like a random series of letters and numbers.
"It's a pretty extensive list that the crews get just before departure," Cox said. "For this NOTAM system to be out — I don't ever remember it failing before, and I've been flying 53 years, so it really is unusual."
Buttigieg says DOT will seek to learn 'root causes' of meltdown
Transportation Secretary Pete Buttigieg vowed that his agency will get to the "root causes" of the massive system meltdown that grounded flights across America.
Wednesday's FAA debacle is the latest airline headache that's impacted mass numbers of U.S. travelers. Buttigieg on Tuesday said his department would be holding Southwest Airlines accountable for its holiday season cancellations.
More than 540 Delta flights delayed, 14 canceled
More than 540 Delta flights were delayed as of 9:13 a.m. ET Wednesday, amounting to 19% of the overall, while 14 had been canceled, according to FlightAware.
The airline said in a tweet it was "safely focused on managing our operation during this morning's FAA ground stop for all carriers."
More than 20% of JetBlue, Alaska Airlines flights delayed
JetBlue and Alaska Airlines tweeted that they're monitoring the FAA computer outage and asked customers to stay informed on the status of their upcoming flights.
"We appreciate our customers patience and ask they continue to monitor their flight status," JetBlue said in a tweet.
As of 8:52 a.m. ET, the airline had three flights canceled and 208 flights delayed, amounting to 21% of its overall flights, according to FlightAware.
Alaska Airlines tweeted that the outage "is affecting all airlines, including Alaska flights."
"We are closely monitoring the situation and in contact with officials at the FAA. If you're flying this morning, please check the status of your flight before heading to the airport."
Alaska Airlines had 11 flights canceled and 149 flights delayed, also amounting to 21% of its overall flights, FlightAware noted as of 8:53 a.m. ET.
Fiancé called just as he was about to board flight to reunite them
After six weeks apart, Wyatt Cosich was about to board the plane taking him home to see his fiancé, Samantha Martinez, when she called and told him about thousands of flights being grounded.
Cosich, 22, told NBC News by telephone Wednesday that he was lining up to get on the plane at San Antonio International Airport, set to take off at 6:15 a.m. local time (7:15 a.m. ET), when Martinez, 23, said they would have to be separated for a little while longer.
"I was really looking forward to seeing her," Cosich said of Martinez, adding that he had traveled to Texas from their home in Newton, North Carolina, for a job opportunity. He added the pair were getting married Sept. 9.
"There about five gates and around 200 to 300 people here," he said, adding that airport staff had been providing regular updates to passengers, although most of the time they had been saying, "no more news."
Unlike some passengers who he said had been getting frustrated with the delays, Cosich said he was calm and while it was unclear when and how he would get home, he praised the airport staff for their professionalism: "They've been great."
FAA says ground stop has been lifted
American Airlines: 'We're closely monitoring the situation'
American Airlines — which had just over 100 of its flights canceled and nearly 300 delayed as of 8:20 a.m. ET, according to the flight tracker FlightAware — said in a tweet just before 8 a.m. ET that it is "closely monitoring the situation and working with the FAA to minimize customer disruptions."
FAA says some departures resuming from Atlanta and Newark
Photo: The departures board at Ronald Reagan Airport in Washington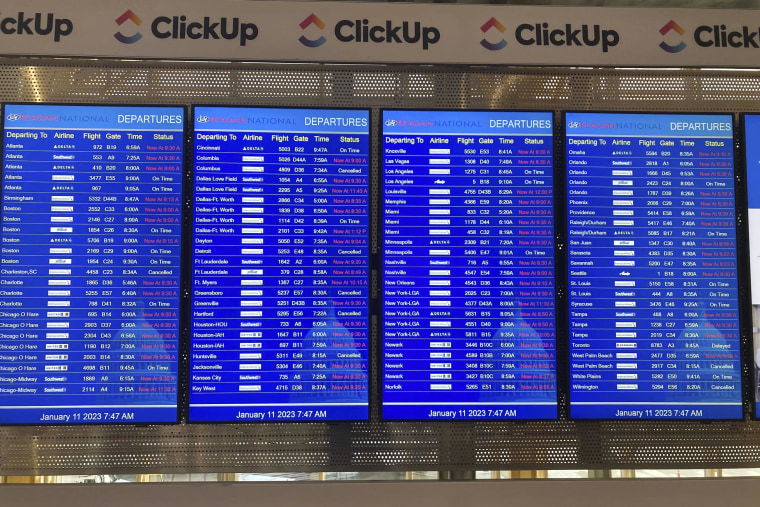 Expert: Domestic flights won't be back to normal until Thursday or Friday
NBC aviation analyst Capt. John Cox said on MSNBC's "Morning Joe" that domestic flights won't return to their normal schedules until Thursday or Friday given the "domino effect" of the delays and cancellations caused by the nationwide computer outage.
"There's a domino effect to this — airplanes move around the world, and consequently, as an example, an airplane that's trapped in New York, in four hours, is expected to be in Los Angeles, in five hours. And so the people in Los Angeles that are depending on that airplane, their flight will be either delayed or canceled, and the airplane would then say, 'Go to Hawaii, and then come back,'" he said. "So you've got all of these airplanes moving around throughout the day."
"I think it'll certainly be tomorrow at the earliest, and potentially the day after, before the system's back to 100%," Cox added.
2,512 flights to or out of the U.S. delayed, flight-tracking site says
The tracking website FlightAware reported that 2,512 flights had been delayed leaving or entering the United States by 7:56 a.m. Wednesday.
Total cancellations stood at 254.
White House: No evidence of cyberattack right now but DOT doing 'full investigation'
All American Airlines flights from Paris delayed, airport operator says
All American Airlines flights from Paris have been delayed until further notice, Groupe ADP, an international airport operator based in the French capital, told NBC News on Wednesday.
Air France, meanwhile, said its flights from the U.S. were going ahead as planned and were not affected by the FAA notice, and it understood that the problems with the system would be fixed soon.
United delays domestic flights until 9 a.m. ET
United Airlines said in a statement Wednesday it had temporarily delayed all domestic flights until at least 9 a.m. ET.
"The FAA system that sends out important real-time flight hazards and restrictions to all commercial airline pilots — Notice to Air Missions (NOTAM) — is currently suffering a nationwide outage. United has temporarily delayed all domestic flights and will issue an update when we learn more from the FAA."
In a tweet, Southwest Airlines urged customers to check the status of their flights in the Southwest app or on its website.
FAA pauses all domestic departures until 9 a.m. ET
Flight radar shows aircraft over the United States at 7 a.m. ET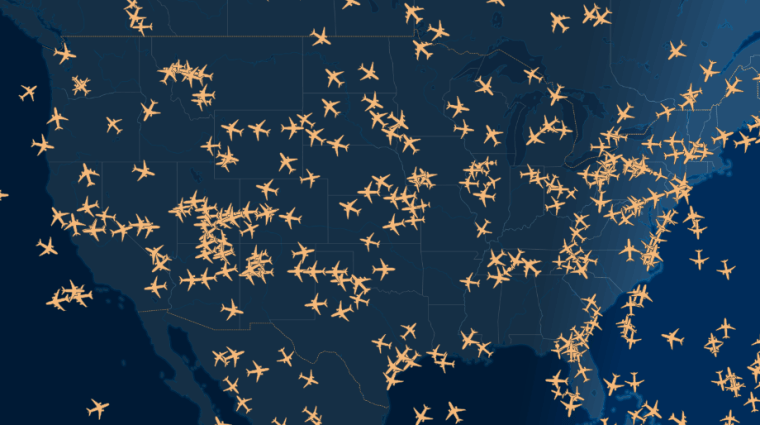 Sec. Buttigieg tweets he's been in touch with FAA
Hundreds of flights already affected
About 760 flights within, into and out of the U.S. were delayed as of around 6:30 a.m. Wednesday morning, according to online flight tracker FlightAware. Around 90 flights were listed as canceled.
"Operations across the National Airspace System are affected," the FAA said in a statement.
"The FAA is working to restore its Notice to Air Missions System. We are performing final validation checks and repopulating the system now," it said.
FAA still working to restore computer system