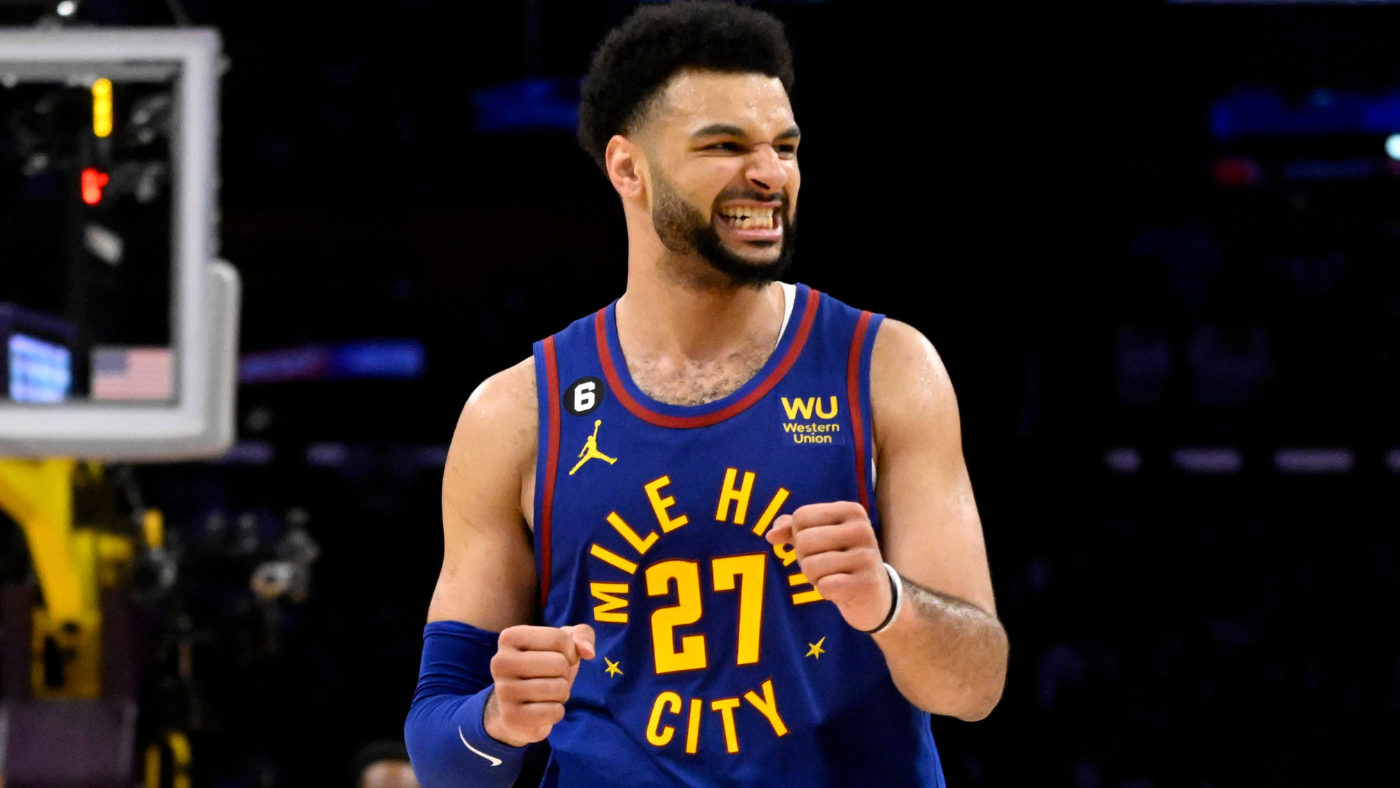 Jamal Murray and the Denver Nuggets took a 3-0 series lead on the Los Angeles Lakers in the Western Conference finals on Saturday night. Murray scored 37 points in the win as Denver remained unbeaten at home and moved to within one win of the NBA Finals.
The Miami Heat took down the Boston Celtics again with a win in Game 2 win at TD Garden on Friday behind Jimmy Butler and Caleb Martin. The Celtics now face a deep hole to crawl out of as the series shifts to South Beach. 
Trying to keep up with the NBA playoffs? We have the latest results, as well as series-by-series schedules and streaming info below.
All times listed are Eastern. Games on ESPN and ABC can be streamed on fubo (try for free).
Conference finals schedules
No. 1 Nuggets vs. No. 7 Lakers (Denver leads 3-0)
Game 1: Nuggets 132, Lakers 126
Game 2: Nuggets 108, Lakers 103
Game 3: Nuggets 119, Lakers 108
Game 4: Nuggets at Lakers, Monday, May 22 (8:30 p.m. ET, ESPN)
Game 5: Lakers at Nuggets, Wednesday, May 24 (8:30 p.m. ET, ESPN)*
Game 6: Nuggets at Lakers, Friday, May 26 (8:30 p.m. ET, ESPN)*
Game 7: Lakers at Nuggets, Sunday, May 28 (8:30 p.m. ET, ESPN)*
No. 2 Celtics vs. No. 8 Heat (Miami leads 2-0)
Game 1: Heat 123, Celtics 116
Game 2: Heat 111, Celtics 105
Game 3: Celtics at Heat, Sunday, May 21 (8:30 p.m. ET, TNT)
Game 4: Celtics at Heat, Tuesday, May 23 (8:30 p.m. ET, TNT)
Game 5: Heat at Celtics, Thursday, May 25 (8:30 p.m. ET, TNT)*
Game 6: Celtics at Heat, Saturday, May 27 (8:30 p.m. ET, TNT)*
Game 7: Heat at Celtics, Monday, May 29 (8:30 p.m. ET, TNT)*
---
Eastern Conference second-round results
No. 5 Knicks vs. No. 8 Heat (Miami wins 4-2)
Game 1: Heat 108, Knicks 101
Game 2: Knicks 111, Heat 105
Game 3: Heat 105, Knicks 86
Game 4: Heat 109, Knicks 101
Game 5: Knicks 112, Heat 103
Game 6: Heat 96, Knicks 92
No. 2 Celtics vs. No. 3 76ers (Boston wins 4-3)
Game 1: 76ers 119, Celtics 115
Game 2: Celtics 121, 76ers 87
Game 3: Celtics 114, 76ers 102
Game 4: 76ers 116, Celtics 115 (OT)
Game 5: 76ers 115, Celtics 103
Game 6: Celtics 95, 76ers 86
Game 7: Celtics 112, 76ers 88
Western Conference second-round results
No. 1 Nuggets vs. No. 4 Suns (Denver wins 4-2)
Game 1: Nuggets 125, Suns 107
Game 2: Nuggets 97, Suns 87
Game 3: Suns 121, Nuggets 114
Game 4: Suns 129, Nuggets 124
Game 5: Nuggets 118, Suns 102
Game 6: Nuggets 125, Suns 100
No. 6 Warriors vs. No. 7 Lakers (Los Angeles wins 4-2)
Game 1: Lakers 117, Warriors 112
Game 2: Warriors 127, Lakers 100
Game 3: Lakers 127, Warriors 97
Game 4: Lakers 104, Warriors 101
Game 5: Warriors 121, Lakers 106
Game 6: Lakers 122, Warriors 101
---
First-round results
No. 1 Bucks vs. No. 8 Heat (Miami wins 4-1)

Game 1: Heat 130, Bucks 117
Game 2: Bucks 138, Heat 122
Game 3: Heat 121, Bucks 99
Game 4: Heat 119, Bucks 114
Game 5: Heat 128, Bucks 126 (OT)
No. 2 Celtics vs. No. 7 Hawks (Boston wins 4-2)
Game 1: Celtics 112, Hawks 99
Game 2: Celtics 119, Hawks 106
Game 3: Hawks 130, Celtics 122
Game 4: Celtics 129, Hawks 101
Game 5: Hawks 119, Celtics 117
Game 6: Celtics 128, Hawks 120
No. 3 76ers vs. No. 6 Nets (Philadelphia wins 4-0)
Game 1: 76ers 121, Nets 101
Game 2: 76ers 96, Nets 84
Game 3: 76ers 102, Nets 97
Game 4: 76ers 96, Nets 88
No. 4 Cavaliers vs. No. 5 Knicks (New York wins 4-1)
Game 1: Knicks 101, Cavaliers 97
Game 2: Cavaliers 107, Knicks 90
Game 3: Knicks 99, Cavaliers 79
Game 4: Knicks 102, Cavaliers 93
Game 5: Knicks 106, Cavaliers 95
Game 1: Nuggets 109, Timberwolves 80
Game 2: Nuggets 122, Timberwolves 113
Game 3: Nuggets 120, Timberwolves 111
Game 4: Timberwolves 114, Nuggets 108 (OT)
Game 5: Nuggets 112, Timberwolves 109
No. 2 Grizzlies vs. No. 7 Lakers (Los Angeles wins 4-2)
Game 1: Lakers 128, Grizzlies 112
Game 2: Grizzlies 103, Lakers 93
Game 3: Lakers 111, Grizzlies 101
Game 4: Lakers 117, Grizzlies 111 (OT)
Game 5: Grizzlies 116, Lakers 99
Game 6: Lakers 125, Grizzlies 85
No. 3 Kings vs. No. 6 Warriors (Golden State wins 4-3)
Game 1: Kings 126, Warriors 123
Game 2: Kings 114, Warriors 106
Game 3: Warriors 114, Kings 97
Game 4: Warriors 126, Kings 125
Game 5: Warriors 123, Kings 116
Game 6: Kings 118, Warriors 99
Game 7: Warriors 120, Kings 100
No. 4 Suns vs. No. 5 Clippers (Phoenix wins 4-1)
Game 1: Clippers 115, Suns 110
Game 2: Suns 123, Clippers 109
Game 3: Suns 129, Clippers 124
Game 4: Suns 112, Clippers 100
Game 5: Suns 136, Clippers 130
---
2023 NBA playoff bracket